Case Study: Morgan Sindall Apprenticeship, Newham, London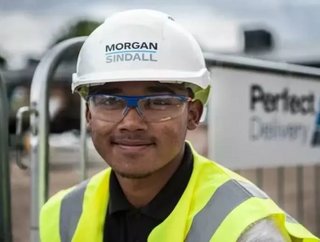 Imran Khan is the first apprentice to start work on one of the nine primary schools in Newham which construction and infrastructure company, Morgan Sind...
Imran Khan is the first apprentice to start work on one of the nine primary schools in Newham which construction and infrastructure company, Morgan Sindall, is expanding for the East London Borough.
The seventeen year-old from Newham, who is now part of the team working at Calverton Primary School, once planned to go into the auto industry, but his interest in construction was piqued after watching his older brother at work.  
He said: "I originally wanted to go into mechanics or car maintenance, but my older brother is an architect and I found it really interesting watching him working on design projects and building models. That developed my interest in the construction industry initially, and it just grew gradually from there, until I realised that this is what I want to do."
He is now working four days a week as a trainee project manager at Calverton Primary School, as part of a Level 3 Apprenticeship in Construction Contracting Operations at Barking and Dagenham College.  As part of his apprenticeship, he will also spend time working at Upton Cross Primary School and Portway Primary School in Newham, where Morgan Sindall is also on site.
Calverton is one of nine schools which Morgan Sindall is upgrading across the Borough as part of Newham's wider pupil expansion programme. Works include the extension and refurbishment of Kensington Primary, Earlham Primary, Woodgrange Infant, Hartley Primary, Central Park Primary, Godwin Junior, Upton Cross Primary and Portway Primary Schools.
Sir Robin Wales, Mayor of Newham, said: "I am pleased that through our contract with Morgan Sindall we have been able to provide opportunities for the borough's young people.  We have high aspirations for our children and young people and are committed to supporting them to succeed.
"It's important for us that local people can capitalise on the jobs being created in Newham. We've worked closely with Morgan Sindall to ensure that residents can develop the right skills and are provided with training so they can build their future careers.
"It's vital that the services we procure deliver wider social benefits for the borough and that's why I'm keen to see all our suppliers engaging with the council to help leave a lasting legacy of jobs and training for Newham residents."
Imran added: "My placement at Morgan Sindall involves working on site for four days a week and going to college one day a week. I do all sorts of things during my time on site, but my main responsibilities involve liaising with suppliers, designers and subcontractors, working with our project teams on site, going to meetings with our design and project teams and assisting where needed."
With an ageing workforce, uneven gender divide and just two percent of workers coming from ethnic minority backgrounds, the UK's construction industry is facing a number of key challenges in the battle to attract, develop and retain a skilled, diverse and sustainable workforce. 
Morgan Sindall currently invests in around 100 permanent apprentices across its UK business and supports an additional 63 apprentices through its supply chain.
Tony Dixon, Morgan Sindall's Managing Director of Construction London and South East, said: "Morgan Sindall's track record of employing apprentices, even in challenging economic conditions, demonstrates our commitment to young people. The borough's modern procurement methods provide added encouragement to seek out potential talent from the local area.
 "The ongoing work on the schools across Newham has an immediate impact on people living locally at all levels - from present and future pupils, parents, teachers and school users to neighbours and local residents. The implementation of schemes which draw in and benefit young people from nearby schools and colleges is important in helping local people feel the economic and wider social benefits of these projects."
Newham has one of the youngest populations in England and Wales.  Morgan Sindall is offering work experience to youngsters from the borough as part of a wider movement to increase engagement with young people who may be thinking of entering the construction industry.
The work experience scheme, which is being run in partnership with the London Borough of Newham, will see nine teenagers take part in two-week placements across the nine school project sites during the summer. Although not able to work on the active construction sites, the students will work from the project office – giving them an insight into the real-world workings of various aspects of the industry – including project planning, design and project management.
Imran said: "What Morgan Sindall's done, in terms of helping me to get this experience, is amazing. Getting this practical, hands-on insight really helps to bring what I learn at college to life. I decided to train to become a project manager because I really enjoy working with people and managing the day to day situations which come up on a site. It's exciting to be part of bringing together all the different elements of a project to create a great result for our customer.
"It's great being able to be part of an active site, especially in my borough. It really helps in terms of getting practical experience and building contacts and just getting a feel for what being on a construction site is like. Before I started on site, I was a bit nervous, there is a bit of a stereotype of a 'typical' builder – I thought everyone would be a lot older than me and that it would be really hard to get on with people and relate to them, but it has been great and I feel like part of the team."
The Newham projects, which are being delivered in two phases, are worth a total of £25.9 million and will create over 2,000 new school places in the borough. The contracts were acquired under the £1 billion Improvement and Efficiency South East (iESE) framework, one of the key construction frameworks in London and the South East used by public sector organisations to procure major building works in education, health and community buildings.