New York City Construction Spending to top $30bn annually to 2015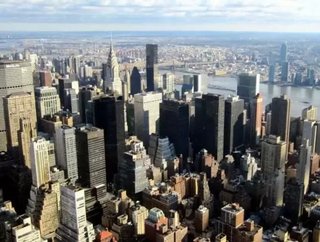 New York City construction spending and employment are poised for a return to the boom times of the mid-2000s, fuelled by a resurgent residential market...
New York City construction spending and employment are poised for a return to the boom times of the mid-2000s, fuelled by a resurgent residential market, anticipated progress at two mega-development sites, and ongoing government infrastructure projects, according to New York City Construction Outlook 2013-2015, an annual forecast and analysis prepared by the New York Building Congress with support from the New York Building Foundation.
The report estimates that construction spending will reach $31.5 billion in 2013, a 14 percent increase from the 2012 figure of $27.6 billion. Construction activity is expected to continue building momentum in the coming years: growing to $33.4 billion in 2014 and then $37.0 billion in 2015.
If the 2013 estimate of $31.5 billion is achieved, it would exceed the previous high of $31.1 billion, reached in 2007, although with inflation factored in, 2013 spending would actually be about 15 percent below the 2007 peak in volume of work delivered. 
If 2015 construction spending matches the forecast of $37.0 billion, however, the volume of work produced would be consistent with numbers at the height of the building boom, even with inflation factored in.  
Building Congress President, Richard T. Anderson, said: "New York City is once again demonstrating its remarkable resiliency. Just five years after the worst downturn since the Great Depression, the City's construction industry finds itself on the brink of yet another building boom."
Employment
The Building Congress projects the addition of 4,200 new construction jobs in 2013—up to 119,100 from 114,900 in 2012. The forecast anticipates a total of 123,400 jobs in 2014, and 129,700 in 2015.
If these benchmarks are realised, 2014 and 2015 would represent the industry's second and third-highest employment totals since at least 1995 – surpassed only by the 132,600 jobs reported in 2008.
Residential
The residential construction sector, which declined precipitously in the aftermath of the worldwide financial collapse in 2008, is continuing its remarkable rebound. Residential construction spending doubled between 2009 and 2012 and is expected to continue this surge by doubling yet again by 2015.
After rising to $5.3 billion in 2012, the Building Congress anticipates housing-sector construction spending to reach $7.5 billion in 2013, $9.0 billion in 2014 and $10.7 billion in 2015.
The report noted that despite these positive developments, the production of new housing units is not keeping pace with the growth in spending. In 2012, New York City added 11,000 units of new housing on $5.3 billion in residential spending while in 2008, 33,000 new housing units were produced with $5.9 billion in spending.
Non-Residential
Non-residential construction, which includes office space, institutional development, sports/entertainment venues, and hotels, is forecasted to reach $10.3 billion in 2013, up from $8.9 billion a year ago. Spending in this sector is expected to climb even further in the coming years—to $10.8 billion in 2014 and $13.6 billion in 2015.
The sector is being buoyed by current and anticipated additional work at the World Trade Center and Hudson Yards, as well as a number of large hotel projects and a series of significant ongoing expansions by New York City's educational, healthcare and cultural institutions.
The Building Congress forecasts that 2.9 million square feet of office space will be in construction in seven Manhattan office towers during 2014. Five of those towers, totalling 2.6 million of the 2.9 million square feet of new inventory, will be confined to the 16-acre World Trade Center and a portion of the West Side of Manhattan roughly bounded by 9th and 11th Avenues from West 30th to West 33rd Street.
In 2015, these two neighbourhoods are forecast to be the home of five of the six Manhattan office towers under construction and 3.7 million of the 3.8 million square feet expected to be built that year.
Building Congress Chairman, John M. Dionisio, said: "Back in 2003, government officials unveiled ambitious master plans for both the World Trade Center and Hudson Yards. These proposals were predicated largely on billions of dollars in upfront government investments, which would pave the way for private sector investments. "After a decade, those ambitious visions and upfront capital investments are paying off."
Government
Government spending, which includes investments in mass transit, public schools, roads, bridges, and other essential infrastructure, is forecasted to increase from $13.4 billion in 2012 to $13.7 billion in 2013 before dropping back to $13.5 billion in 2014 and then $12.8 billion in 2015.
Decreased spending by the City of New York, which is perennially the largest single purchaser of construction services in the five boroughs, is driving the downward trend. Since peaking at $9.3 billion in 2007, City spending on the design and construction of capital projects has steadily declined. The Building Congress warns that the City's design and construction spending could fall to $7.5 billion in 2013, followed by a drop to $7.2 billion in 2014 and $6.4 billion in 2015.  
The Metropolitan Transportation Authority (MTA) is projected to spend about $3.7 billion annually between 2013 and 2015, which is in line with the MTA's recent annual expenditures, though well below its peak of $5.1 billion in 2008. The third biggest government spender, the Port Authority of New York & New Jersey, is expected to hold steady at $1.8 billion annually throughout the forecast period. 
The Building Congress report cautions that there is a fair amount of uncertainty in the government forecast. With a new mayoral administration and changes to the leadership of the New York City Council, shifting priorities could have an impact both on the size of the City's capital budget as well as the mix of projects undertaken.  The report also notes that the City's own estimates for future spending often are lower than the final result. 
"In the years immediately following the 2008 financial meltdown, New York City's building industry was heavily reliant on public sector work," said Building Foundation Chairman Frank J. Sciame.  "In 2009 and 2010, government projects accounted for approximately 58 percent of all construction spending, but by 2015, government work is expected to account for just 35 percent of construction spending.  While this is good news for the private sector outlook, it is troubling to see government spending so far off previous highs." 
Superstorm Sandy
The construction industry quickly mobilised after Superstorm Sandy to restore infrastructure, re-open commercial buildings, and begin the process of rebuilding the City's coastal communities. This work has undoubtedly had an impact on the overall forecast. However, since most data sources, including labour statistics, building permits and some capital budgets, do not treat storm-related construction as a separate category, it is not possible to isolate and precisely quantify Sandy's impact on Citywide construction spending and employment. 
In addition, a wide range of government officials and task forces on the City, State, and Federal levels have analysed the storm and are formulating recommendations to make the region's infrastructure, economy, and residential communities more resilient in extreme weather events. Should a consensus quickly form on investment priorities, some additional Sandy-related projects are likely to be initiated and positively impact construction spending and employment during the forecast period.