Q&A: KONE UltraRope Taking us Higher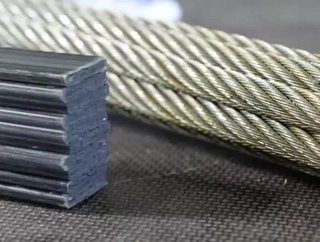 Finnish company KONE, recently named by Forbes as one the most innovative companies in the world, is using to carbon fibre to change what is possible wi...
Finnish company KONE, recently named by Forbes as one the most innovative companies in the world, is using to carbon fibre to change what is possible with lift technology and enable the world's building to become taller than ever. Construction Global caught up with its Head of Technology for Major Projects, Johannes de Jong, to find out more.
Please introduce our readers to KONE. Sum up the company in 100 words or less
KONE, one of the global leaders in the elevator and escalator industry, was founded in 1910. Our objective is to offer the best People Flow® experience by developing and delivering solutions that enable people to move smoothly, safely, comfortably and without waiting in buildings in an increasingly urbanising environment. Providing industry-leading elevators, escalators and innovative solutions for modernisation and maintenance, we have been committed to understanding the needs of our customers in various segments for the past century. In 2013, KONE had annual net sales of €6.9 billion and at the end of the year over 43,000 employees. KONE class B shares are listed on the NASDAQ OMX Helsinki Ltd.
Tell me about the rope's development: When did it begin and what was the journey to delivering the product successfully?
While elevators have enabled the rise of city skylines, the technology had reached its height limit: elevator travel distances of more than 500 meters are not feasible as the weight of the ropes themselves becomes so large that more ropes are needed to carry the ropes themselves. KONE is constantly looking at ways to improve the technology, to find better solutions that improve the overall People Flow® experience while also cutting energy consumption. KONE UltraRope responds to the challenges of enabling longer vertical travel distances and reducing energy consumption. Hoisting rope is a component whose weight increases as travel distance increases, and this has been one of the limiting factors.
We wanted to find ways of reducing the weight of the ropes and started looking at alternative materials. We benchmarked solutions from other industries and came across carbon fiber technology, which has already been used to reduce weight in industries such as aviation, automotive, machine industry (fast moving parts). We also came across many companies who are specialized in carbon composites.
KONE was recently named by Forbes as one of the world's most innovative companies. Tell us about the company's Research and Development and why you are so innovative
KONE has a history of innovation. Throughout the past century, we have made systematic and long-term investments into research and development capabilities, and this is an important element of our success. As we strive to perfect our customer service, we are also exploring technologies traditionally linked to other industries. KONE tracks customer needs and monitors market developments and changes in trends while also seeking ways to improve working methods. We know that to succeed in the future, KONE needs to adapt to a changing world and create new opportunities for growth.
How does KONE's strength compare to that of traditional steel cabling?
KONE UltraRope provides similar strength to conventional steel ropes; however, it weighs only a fifth of the equivalent steel rope. Due to its carbon fiber core, UltraRope also has an exceptionally longer lifetime (up to twice as long) as the solid structure does not densify and stretch. For conventional steel ropes, they need to be replaced or shortened every 7-10 years depending on usage.  
Traditional steel cables have a 500m limit. How much higher can the Ultrarope take buildings?
Travel distances beyond 500 meters are possible but not practical. At that point, the ropes, for example, begin to with so much that additional ropes are needed to carry the weight of the ropes themselves. The size of the components also begins to grow so much that installation becomes difficult. In the future, KONE UltraRope can enable travel heights up to 1,000m. While UltraRope is ready for this travel height, there are other elevator components that require further development, rigorous testing and certification. Within 2-3 years, the rest of the elevator technology should be ready. Given the planning and construction time, we'll see such buildings in existence in around 5-10 years from now. KONE elevator technology will be there to support this development.
To what extent could the use of KONE Ultrarope reduce energy use? I understand that it can do so as just one lift is needed, as opposed to transferring to another once the current height-limit is reached
Comprised of a carbon fiber core, KONE UltraRope is extremely light, meaning elevator energy consumption in high-rise buildings can be cut significantly.
For an elevator with a travel height of 500 meters, the energy savings would be 15 percent. Energy saving grow exponentially, and in the future, when elevator travel heights increase, even bigger savings can be made. E.g. for an elevator with a travel height of 800 meters, the energy savings would already be over 45 percent.
Do you believe the use of UltraRope is viable in terms of cost?
KONE UltraRope technology can reduce the total cost of ownership thanks to many benefits: – reduction on energy consumption, reduction of downtime caused by building sway, longer lifetime of ropes themselves. As the cost of the UltraRope goes down we expect it to be used as an alternative also in low-rise buildings.