Swansea Arena lights up Wales entertainment scene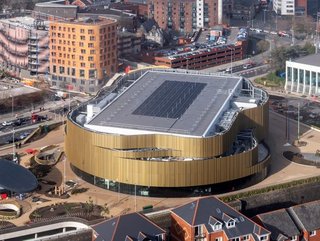 New Swansea Arena - which will host up to 200 live performances a year - transforms district into leisure, entertainment, social housing and digital hub
The newly opened Swansea Arena, designed by architects ACME, features 93,000 LED lights which can form a giant wraparound display.
During the daytime, the striking new venue shimmers in gold, but at night the exterior can be lit up in a range of colours. The Arena will host up to 200 live performances a year across comedy, theatre, music and gaming, bringing an additional 260,000 visitors a year to the city.
Holding up to 3,500 people, the venue is the centrepiece of Copr Bay, a £135 million regeneration scheme in Swansea city centre. New apartments and independent restaurants are also part of the lifestyle-entertainment mix.
Swansea Council announced that Copr Bay phase one will be home to an ultra-fast, free public WiFi connection in partnership with Vodafone. The service will enable thousands of people to stream content at the same time from their mobile devices, in turn creating more efficient remote working opportunities from Copr Bay's new public spaces.
More than £1bn is being invested across the city in a bid to redefine Swansea as a landmark destination for business and leisure, with tens of thousands of square feet allocated to new office space, designed to attract digital, tech and creative businesses.
Rob Stewart, Leader of Swansea Council, said what was once dominated by tired buildings, underutilised retail space and empty industrial realm has given way to a vibrant, new mixed-use district that brings together leisure, entertainment, social housing and workspaces.
"Our hope is that Copr Bay will serve as a best-in-class example of how poorly-planned districts of the past can be transformed into areas of beauty and prosperity and serve as catalysts for change," he said.