Kier to deliver £27.5m Health and Wellbeing Centre in Wales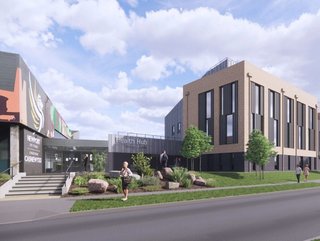 The new centre in Ringland, Newport is being built for the Aneurin Bevan University Health Board, and will be a significant community project
Kier has been appointed to deliver a new £27.5 million Health and Wellbeing Centre in Ringland, Newport for the Aneurin Bevan University Health Board, it has been announced.
In a statement, Kier said that the new centre will provide first class facilities to house two existing GP practices independently, as well as bringing a range of community services to patients in one place, including general medical services, community dentistry, community services, social care and third-sector partners.
It added that services at the existing community hub will be joined to the new building with the aim of strengthening the services provided to support wellbeing, reduce loneliness and promote independent living.
Jason Taylor, regional director at Kier Construction Western & Wales, said: "This is a significant project for the community in Newport and our Wales business, and we are pleased to be getting started on site.
"This new Health and Wellbeing Centre will link directly to the community hub and will allow for an effective integration with wider community services and create a focus for health and wellbeing within the community."
Other works on the project include the creation of a new car park, a mobile health centre which will be used for the duration of the project by the local community, and a new tarmac pitch that will be installed to replace the current one.
Work has already started on the project and is expected to be completed by January 2025, the company said. It added that the project was procured through the Building for Wales Framework.

Healthcare ambitions
Nicola Prygodzicz, Chief Executive of Aneurin Bevan Health University Health Board, stated: "We are delighted that the Welsh Government has approved this new Health and Wellbeing Centre, which is a perfect example of our ambitions for the transformation of health care delivery across the health board area.
"Our ongoing Clinical Futures programme commits us to moving care closer to people's homes and this new centre in the Newport East area will enable patients to access a wide range of health and social care services under one roof in the heart of their community."
The Newport East project further demonstrates Kier's commitment to providing state-of-the-art health facilities in Wales, the construction firm highlighted in its statement, adding that it is currently on site at Singleton Hospital in Swansea completing recladding works. It is also building a similar health and wellbeing centre in in Tredegar, and last year handed over the £25 million HMT Sancta Maria hospital.