Superwomen - Women in Construction: Laura Moore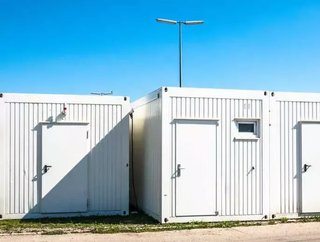 "Work hard, play hard" seems to embody Laura Moore's attitude, who in addition to being the East Midlands branch manager of Mobile Mini is also a...
"Work hard, play hard" seems to embody Laura Moore's attitude, who in addition to being the East Midlands branch manager of Mobile Mini is also a member of Great Britain's Women's American Football team.
Laura's workday can be both challenging and immensely rewarding, as her average day includes a wide range of tasks from management to hands-on jobs. As a manager at portable container & site accommodation hire company Mobile Mini, she oversees the supply of a wide range of storage and welfare unit solutions across the East Midlands area.
Read on for a busy day-in-the-life of Laura.
8AM
Laura explains that her first priority of the day is always her team. "I tend to be the first one in, and this way I can catch everyone when they arrive and say hello as they pass my office, which is a great way to check in with everyone."
As everyone arrives at the office, Laura starts checking the schedule for the day and ensuring everything is in place to meet the day's work output. Mobile Mini handles hundreds of enquiries and orders daily, and it is Laura's job to ensure that these are met in a timely fashion and to the standards expected of the company. Laura needs to "monitor how we are sitting in terms of asset management and pending order reports, making sure we are on course" at the start of each day.
10AM
Laura's work with Mobile Mini involves a variety in her tasks and schedule which keeps her on her toes; she reveals that this has become "one of the reasons I love my job so much."
"On a general day I'll check in to see if we're hitting the timeframes around collections and processing. Are we rotating our stock and not having units sitting around for a period of time? Are we capturing all repairs? I like to make sure we catch any problems with units early, that way we can guarantee every one of our customers receives the best possible product."
Quality control and customer service take priority in Laura's schedule. Once she is assured this, she starts dealing with the more business-orientated side of things; "I'll keep an eye on profit and loss – where are we in the month against margin and target, what can we do to improve?" It's important to Laura that she is constantly evaluating every aspect of performance at her branch and seeking to better the business and its services wherever possible.
12PM-2PM
"After lunch I like to check in with the team again – people are our most important asset and I like to make sure staff are happy and motivated." It's also essential for Laura to have this kind of regular engagement with her team to make sure everyone remains informed and is on the same page when it comes to work; "We're all one team, from yard to office, and all chip in together – so this regular engagement means everyone knows I'm here if they need me."
"One of my favourite tasks is reviewing the driver's performance charts with them as they are so competitive and always looking to be number one – I can certainly identify with that!"
2PM-5PM
As Laura mentioned previously, the wide range of tasks in her work is one of the things which keeps her enthusiastic and motivated in her work. "In the afternoon, I like to help out with whatever needs doing, whether it's helping in the office, training, support, stock taking or supply ordering. I'm happy to get stuck in with whatever's needed – the variety keeps me on my toes and ensures every day brings a different challenge."
Laura likens working in operations to trying to "juggle, spin plates and bounce a ball off your foot". Quick-thinking and problem-solving skills form a major part of her work: "Being busy and finding a solution is why many people are attracted to hire as a career; while trying to implement proactive measures in the business, you are always going to have to react to the next hire, the next delivery, the next problem.
"I would say with my experience we always find a way as a team, or at the very least give an alternative solution."
5PM- 10PM
Outside of work, Laura's competitive edge and energy continue. "In my spare time, I play as Defensive End for Birmingham Lions, an American football team. Additionally, I coach the Defensive Line at the University of Nottingham and I like to practise as often as possible. It's a great way to relax and keep fit, and the competitive element really helps me in my role at Mobile Mini too. I am a competitive person and being around people who want to achieve, want to improve and clearly want to help grow the business is such a bonus to my working day."
Laura is usually in bed by 10: "I try to be in bed early to get a good night's sleep, and I always sleep like a log, looking forward to the next day." 
In summarising her work, Laura says "For me, the best thing about working for Mobile Mini is being around the people I work with. We have a great team in the East Midlands and we all really push each other to achieve and hit targets. Aside from being a motivated bunch, we also have a lot of fun at work and someone is always making someone else laugh. We work hard and play hard and support each other – and that's what makes it such a great place to work."
Follow us on LinkedIn and Twitter.
Read our latest magazine issue.