AcerMetric: Introducing a New Off-Site Construction Method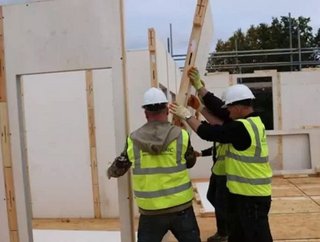 While the innovative new AcerMetric building system has the potential to have a considerable influence on building techniques, it was in fact inspired b...
While the innovative new AcerMetric building system has the potential to have a considerable influence on building techniques, it was in fact inspired by a personal experience for Founder and Chairman David Appleford.
After buying his first house in the mid-2000s, Appleford was frustrated to be told not to redecorate for a year to allow for subsidence and cracking, and to make a list of faults for the builder to address at a later date.
He said: "I've had an older car and didn't have to do that; you would be furious if within a year things started to crack and fall apart. I thought, this is crazy, we shouldn't be building houses like this, and asked how we would build if we designed it as a mass-production system, as a machine, to forget it being a building."     
In answering this question, AcerMetric was born. Appleford used dominoes to test the concept and discover how best to align the geometric shapes in 3D, before it became apparent that in building a cube with dominoes, the pieces won't fit.
"In the ideal cube there are 12 edges that don't interlock. Houses are totally reliant on the foundations; if there is any subsidence it will collapse and when you stand back you think 'how complex actually is a house or building?' Why are we paying huge sums of money for houses which, despite the size, are much simpler to produce than cars, for example?"
Eureka
The breakthrough came when Appleford found a way to interlock the walls to the floors and the ceiling with the same geometric pieces.
"At first we thought symmetrically, but I couldn't get the shapes to lock in three dimensions, and it was only when it took them asymmetric or rotationally symmetrical that we had the eureka and I was able to interlock the floors with the walls and ceilings," he explained.
To his surprise, no similar patents had been filed, and he set to perfecting the locking system, using cam-locks as a base, but in 3D. The 3D locking element around the edge of the geometric shapes became the heart of AcerMetric's first patent. It has since taken up 20, including three in China and Macau.
The 3D locking system also allowed for easy clamping of beams or columns along the seams, meaning structural elements could be made extremely stable, creating a very strong building using just a single hand tool.
For the panels, Magnesium Oxide boards were selected as a durable, cost-effective fire-resistant material, while timber frame with Rockwool provided insulation, using the seams running around the system to clamp the cladding.
Appleford said: "What we have ended up with is not so much a building system as a construction kit that allows us to create all sorts of structures including buildings or even bridges. It's not limited to houses, although this is the obvious need at the moment along with schools and hospitals. There is a huge demand for these buildings and we have a system that can meet that demand."
First project
After seven busy years' development, during which time it became a Buildoffsite member, gained a manufacturing licensee in South Woodford and a licensed installer, AcerMetric was ready for use in genuine projects, in addition to its demonstration house. The Coppice Primary School in Essex provided an ideal chance to showcase what the system can achieve, and the project was begun October 2013.
The school: a self-contained, two-storey, 460 sqm building, was particularly appropriate to demonstrate AcerMetric's many benefits. In an educational environment, minimal disruption was essential, and that the system requires no heavy machinery or tools, and a team of just four to assemble was hugely beneficial to achieving this.  
"When we build the system it uses muscle power, not cranes or electrics. It only takes a couple of hours to train a labourer to assemble the system. It's easy to understand and the guys enjoy putting it up," said Appleford.
"There is no mess and no fuss. The school was not disrupted at any time and it was quiet. There was no heavy machinery. There were only three or four skips, no wastage and no noise, just four workers were on-site on average including the supervisor. Normally a job of that nature would take about 20 people. We did it with four, and in terrible weather!"
The process
Acermetric's is a fast and simple process from start to finish. Using a powerful CAD system, the design phase is essentially a one-man job. It is efficient in engineering, training, and light on labour. Just five people were required on the factory floor for the school.
Once a client is on board, and the cost and design finalised, the order is placed by the licensed installer, at which point, AcerMetric's factory supplies the flat pack. Then, the installer assembles it on-site and adds finishing touches like M&E.
The whole process can take as little as a week from factory to finish, but if a particular kit is already available, the factory element can be eliminated, making just the transportation and assembly necessary.
If this sounds impressive, it is a process that will only be refined with more projects under AcerMetric's belt. Because it is designed to be mass production, the technique will inevitably become cheaper and faster.
Additionally, the system boasts green credentials. The manufacturing process uses little power, the timber used is a sustainable, recyclable product, the flat pack requires minimal transport deliver to the site, and when it arrives, no potentially polluting machinery is necessary to assemble it.
In price terms, AcerMetric also compares favourably to rivals. Appleford said independent architects set a price for a comparable school building of about £2000 per sqm, while AcerMetric's offering came in at £1450, with larger classrooms and corridors than the architect could achieve within its budgets.
He added: "Even if we were the same or similar price to existing methods, we gain on the cleanliness, the speed, no mess or fuss, no noise. In every single area we are a far superior product."
With the primary school successfully delivered, Appleford is keen to take advantage of the market to offer schools classroom-by-classroom on a leasing basis: a truly modular approach. Various kits can be supplied, allowing the school to build the best design for the available land. The team aims to standardise on school design based on the knowledge gained from this first build, allowing more options and faster project delivery.
Future
Now that the school has given AcerMetric a 'visiting card', a quality successful build to show potential manufacturers and licensees, the future looks bright.
Appleford said: "We want to be able to say 'here's what our system can do. Do you want to have a sub-manufacturing license, or a license for installation and building?' We can train in the factory and offer an expandable template."
The development phase is complete, with tourist accommodation buildings in Abu Dhabi and Ghana, as well as an office added to the portfolio. AcerMetric also recently won a contract from a council for an extension on an existing property for an occupant with motor neurone disease.                    
Importantly, industry feedback has also been excellent. The company's structural engineers have told Appleford they believe AcerMetric to be the only system designed from the outset for mass production, requiring just 41 pieces to produce the panular elements.
Appleford concluded: "We designed it as if we were making cars, but with less than a tenth of the complexity, and have developed a completely new way of building houses which is very quick, very clean and very energy-efficient: not just when the building is completed, but throughout the process."