Congrid, the Finnish construction quality and safety software provider, launches in the UK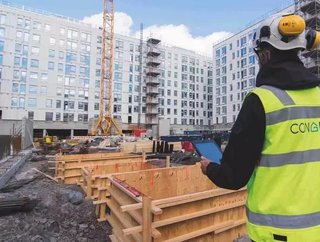 Congrid hasannounced its expansion into the UK to introduce new, smarter ways of working relating to safety and quality in construction. The Congrid mo...
Congrid has announced its expansion into the UK to introduce new, smarter ways of working relating to safety and quality in construction.
The Congrid mobile app introduces new levels of transparency and communication for safety and quality on construction projects and helps deliver zero-defect buildings to clients.
Already the market leader in Finland, with 60% annual revenue growth and all of the country's major construction firms using its platform, including WSP, YIT, NCC, and PEAB, Congrid is now targeting the UK. Congrid's cloud-based app is aimed at project managers and quality managers at construction companies involved in various projects, including housing, offices, hospitals and schools.
Timo Makkonen, CEO of Congrid commented: "We aim to bring our expertise and knowledge to the UK market and introduce new, smarter ways of working relating to safety and quality in construction. Our approach offers the UK construction industry a better understanding of what has been built and how.
"The entire industry needs to change its mindset towards quality - quality is everyone's business. Our software enables all stakeholders involved to participate and take responsibility for quality and safety. What we've experienced is that quality has become far more of a priority and users are looking for peace of mind, to better manage how a building is built and have a record to demonstrate this."
SEE ALSO:
Opinion from MIDFIX: Why Is The Construction Industry Behind On Technological Changes?
How cloud technology can power a sustainable construction supply chain
Newtecnic: Embracing 3D printing in construction
Read the latest issue of Construction Global here
Designed to reduce the industry's reliance on manual, paper-based workflows by digitising on-site project management and documentation, workers use Congrid on smartphones or tablets, to manage safety and quality inspections, document defects and faults and monitor the progress of each work stage in real time, all in the same app. 
This approach enables construction companies to involve their contractor network in the quality assurance and safety management process without any additional costs. Everything is recorded using detailed site plans allowing for the accurate resolution of any issues and subsequent monitoring to ensure all faults are fixed.
Benefits include increased transparency and better communication between construction companies and their contractors, improved safety levels, reduced quality costs, zero-defect property deliveries and more efficient ways of working on site. The data collected allows detailed monitoring and reporting on any issues in need of attention. Future product developments include new data visualisation tools to expand what users can learn from their quality and safety data.
Congrid's first UK appointment sees Daniel Hunt become UK territory manager, responsible for spearheading customer acquisition and hiring further staff in 2019. Already established in Finland and Sweden, the UK is the first country Congrid is moving into outside of the Nordic region.  
About Congrid
Congrid was founded in 2013 by a team of construction site managers who had become frustrated with the use of pen, paper and Excel-files to control the quality and safety of construction sites. Congrid's cloud-based software offers users one platform to handle quality and safety management on any construction project, reducing quality costs, improving safety and maximising site productivity. Customers include major developers, construction firms, contractors and subcontractors in the Nordic region.