Innovative Construction Platform Prescient Sets New Efficiency Standard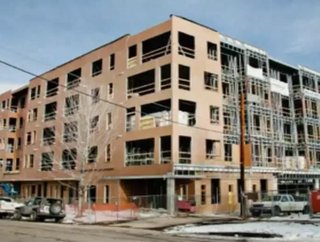 The Prescient construction platform is taking advantage of standardisation to integrate the various processes involved in a build and drive efficiency.P...
The Prescient construction platform is taking advantage of standardisation to integrate the various processes involved in a build and drive efficiency.
Prescient combines a Revit-based proprietary software and light-gauge structural system into a cost-effective green platform for construction which integrates the process through design and engineering to the actual build.
The steel columns, trusses and panels are shaped according to specifications at the company's 60,000 sq ft Denver manufacturing plant. Using this system, construction is possible much faster, and at a lower cost than many other structural engineering methods and assemblies.
Launched in 2012 after six years of concept development, Denver-based Prescient was founded by John Vanker and partner Michael Lastowski, who have more than 25 years' industry experience, in response to their frustration in the lack of development of techniques over this period.
"Prescient offers a new approach to design and construction," said Vanker. "There is value in our platform for everyone involved in the design, engineering and construction process. 
"We experienced first-hand how the industry employs dated and wasteful practices that result in higher costs and we were not reducing risk. We started looking for a more standardised approach recognising that this was the key to predictability. 
"We also recognised that by standardising elements we could build a CAD (Computer Aided Design) to CAM (Computer Aided Manufacturing) integration platform."
This CAD to CAM technology drives Prescient's method, employing the company's proprietary software to integrate the process. 
The software produces a precise virtual replica of the structure of a building; one that perfectly aligns the architectural design with the structural design.
According to Vanker, the industry longs for the predictability afforded by standardisation, and the alignment of structural design with architectural that eliminates the usual conflict between building assemblies and the structure in the field, and its resultant reworks, change orders and scope-creep, issues which all increase cost and cause delays.
He explained: "There is an inherent disconnect in our industry between the various players involved in the design, engineering and construction of buildings. This lack of integration leads to inefficiencies, problems with document version control, missed coordination, conflicts in execution, waste and increased risk and cost." 
"The Prescient system uses the architect's design to drive the manufacture and installation of a building, with the software creating a link from design to our MRP (Manufacturing Resource Process) system, through the manufacturing process based on that design, and then dictating delivery and installation based on schedules. 
"This process eliminates the disconnect that occurs in design and manufacturing that lead to waste, inefficiency and increased cost."
Prescient's platform offers the desired predictability, meaning the architectural plan exactly matches the build condition, and the translation from virtual state to built condition is a perfect match, rather than merely an interpretation.
Vanker said: "The virtual model is an exact replica of what gets built because of the Prescient®SmartGrid.  We layout the grid in the field to precisely align all Prescient structural elements.  This predictability benefits all project participants in the both the planning and execution phase of a construction project. 
Lean and green
The light-gauge steel system is both cost-effective and environmentally sound. Vanker described it as cost-comparable with wood in multi-story buildings, and affording "significant savings" over concrete or heavy steel structure.
The efficiency of the platform and framing system is such that it achieves installation production of up to 20,000 feet per week with a crew of 18 installers; much faster than lumber or concrete framing.  
The schedule compression during the design and construction phase of a project also enables savings on builder's risk insurance and financing costs, and obviously fast completion means a building can begin generating income quicker. 
Vanker said: "One of the keys to schedule compression is that our system is dimensionally stable; it doesn't shrink and needs no curing time.  This means that during construction all processes can start immediately.  Trades can be roughing in on the first floor while we are framing the second. This is not possible with wood or concrete."
Manufacturing the panelised system in the controlled factory environment reduces waste and inefficiency and contributes to LEED or other green building standards. 
Prescient uses highly recycled content steel in its components, producing next-to-no cut-off waste.  All material waste is 100 percent recycled, as is the framing system, which importantly will not add to landfill waste, of which 40 percent consists of construction materials.
The company sources its materials and outsourced components locally, with all steel processed in the US.
Future
Since completing its first build in July 2013, the 60,000 sq ft B Street LoHi apartment building in Denver, Prescient has pushed on strongly, enjoying a phenomenal response, and gaining proof of concept with other successful deliveries.
Vanker is keen to build on this after completion of the second capital raise of $10 million, achieved since September last year.
With this capital the company will expand to meet demand in the Mountain Region and Midwest and open a new manufacturing facility in Houston later this year to serve the South Central Region.  
Prescient has recently begun production on several projects, ranging from 70,000 to 150,000 sq ft, and this trend towards larger builds will continue later in the year up to almost 300,000 sq ft. 
The Founder and CEO noted how this gradual increase has benefitted the company in refining its processes, and suits Prescient's game plan of carefully managed expansion.
He said: "Having the larger projects come in after the first several has enabled us to get our process and execution capacities dialed up to meet the demand.  While our Denver capacity is in excess of 300,000 sq ft per month our project flow has enabled us to bring that capacity on line in a more fluid and controlled way.
"At present we are seeing about 10 new projects each month.  We have about 3.5MM sq ft in our very active pipeline with much more in various stages of design and development.  As we complete more projects our conversion rate will increase." 
Prescient will expand its workforce to add to its current 40 when the second shift in Denver begins and the Houston facility opens, and further develop its software functionality while pursuing five more patents to add to the two already owned.
The company will focus on the multi-unit sector including: senior, apartments, student and military dorms, hospitality and condominiums, all of which will be in production by the end of 2014.
Despite the firm's CAD to CAM integration and automation, Prescient will continue to provide employment in manufacturing, a point of pride for Vanker.
"We are seeing demand from all over the country.  Our plan is to roll out five to seven plants over the next five years.  While we are focused on our current customers and markets we recognise the opportunity and are gearing up our organisation to meet this demand," he concluded.