Leica Geosystems: disrupting construction to build in new dimensions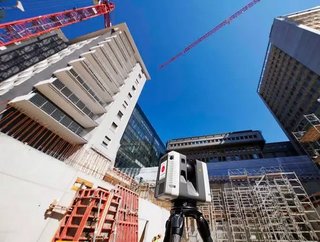 Leica Geosystems' Global Business Development Director Matt Wheelis explains how its solutions are contributing to the transformation of construction...
Leica Geosystems' Global Business Development Director Matt Wheelis explains how its solutions are contributing to the transformation of construction through autonomous digital reality.
"Our focus in construction is around connecting the digital and physical world between the information that comes from BIM (Building Information Modelling) or CAD (Computer Aided Design) and then taking that out to the fields where elements of a build can be installed precisely," explains Matt Wheelis, Global Business Development Director at Leica Geosystems (a part of Hexagon group). Leica products can run equipment such as bulldozers, drilling machines or motor graders in a precise way to shape the earth. "We're also able to capture what has been previously done in the field, along with existing conditions, and bring that into the digital space with our solutions for tasks like laser scanning, or what we call reality capture, which involves both scanning and mobile mapping," adds Wheelis. "We aim to make these kinds of solutions as available to the industry as possible by delivering easy to use and adopt solutions featuring workflows tailored for construction."
Leica is championing a move towards autonomous solutions that bring efficiency and productivity. "We're seeking to take as much of the work from the user as possible to make their workflow in the field simpler," explains Wheelis. "Last year we introduced the RTC 360 solution, which employs computer vision, with five cameras constantly watching the world around the laser scanner. It also features edge computing on the device, so when the scanner is moved between locations to make new scans the onboard computing keeps up with the positioning and is able to register and stitch those scans together in a highly autonomous or assisted way. Without that assistance in the field it would be a tedious process but now it's easy to get a full view of that 3D reality captured in the field without needing to be highly trained."
Ease of use in the field is critical believes Wheelis, who reveals the company is close to developing a three click process for the evaluation of a concrete pour which uses a scan to provide feedback on adjustments that may need to be made post-pour. "It's not just making it easy because that's what needed by the contractor, but it's also making it fast and accurate so you can make adjustments on the fly rather than having to, in this case, grind off or fill in the areas later," adds Wheelis. The app solution, called Rithm, is being developed in partnership with StructionSite for JetStream which is built on top of Leica's platform. "Our three-step push button workflow provides heat maps; you can see a topographic map of that area to pick out where levels are high or low. The savings in terms of avoiding rework and impact on schedules is significant."
Wheelis worked in the construction group at Autodesk (among the leading AEC software developers) for 11 years. They're an important partner for Leica. "We collaborated on the release of our BLK 360 laser scanner which brought a complex process down to a single button," he explains. "Our scanner and Autodesk's mobile software came to market together so we worked very closely to ensure the workflow was as simple as possible between our capture and their BIM software, including Revit and Autocad." Leica has also connected its iCON solutions with Autodesk's BIM360 to support customers with their plans and designs in BIM 360's Docs as their CDE (Common Data Environment). "It's a connected workflow from the design file to the collaboration environment or the CDE to the installation in the field, which we work together to achieve," assures Wheelis.
The sheer number of software startups in the construction industry able to consume or produce data represents a challenge for companies keen to leverage their data and produce meaningful insights. What advice does Wheelis have for finding the needle in the haystack? "The number of touch points is a big challenge," he says. "Finding the one that makes the most sense for the customer or project is key. For example, we've been working with the UK's Point Fuse to deliver a smooth workflow. They're consuming data from our reality capture solutions and helping to produce, in a relatively low touch way, an as-built BIM model which can then be consumed or opened up by either Autodesk Revit or through our own BricsCAD solution."
What digital trends is Wheelis seeing across the sector prompting Leica to develop new solutions and start new collaborations to meet the industry's future needs? "We're addressing the demand for connecting site processes with captured reality," he explains. "Contractors are now expecting to be able to manage requests for information, order changes and job cost information. They need to connect this with their business workloads. Previously, those were things that happened on the same work site but didn't necessarily connect together digitally. With the ease which people are adopting mobile and digital solution, with the generational shift in construction where we have maybe some people who are digital natives becoming decision makers, that's becoming more welcomed and even expected. It's a great opportunity for us as technology providers who take an open stance toward working with other companies to add more value for customers across the industry."
Leica is delivering transformation for both industry leaders such as Skanska and small American MEP (Mechanical Electrical and Plumbing) firms like Harveys in Montana. Through as-built digital reconstructions in the form of point clouds, Harvey's is transforming the services it provides with deliverables high in accuracy and rich in detail. "They are working on large custom homes and luxury developments in mountainous areas of Montana and we're finding that in this environment the plan and the model submitted for construction were not always followed exactly," says Wheelis. "When Harvey's started to prefabricate their plumbing offsite to improve install times they adopted the BLK 360 laser scanner and began fabricating to the actual framing environment. They gained efficiencies, even with last-minute changes, and successfully united the BIM department doing the design and the crews in the field delivering the information back to the fabrication shop."
Looking to the future, Wheelis notes that when Facebook spent $2bn acquiring Oculus Rift there was an expectation that Augmented Reality (AR) and Virtual Reality (VR) were immediately ready for prime time. He predicts that expectation will be driven to fruition as devices become more wearable. "Consumer level innovations around how people consume data in gaming environments in real time are starting to bleed back toward the professional construction space," he says. 
Leica's overriding goal in construction remains the concept of transforming through autonomous digital reality. "We're continuing to achieve scale and connect with more and more partners who are going on this journey with us by innovating with our solutions," assures Wheelis. At the forefront of innovation in this space, the company is preparing to launch BLK2GO – a handheld imaging laser scanner. "With an app, it utilises your own device for the controller," he adds. "It's a very simple approach to capturing 3D space, bringing mobile mapping to a human scale in a form factor that's going to be easy to adopt in the AEC space." Wondering where the next dimension for construction will lead? Watch this space with Leica.
Read the latest issue of Construction Global here
Three Needs for New Solutions in Construction:
Data integration
Imagine if you had all the information on a construction project easily accessible and correlated with a 3D model. The measurements for the formwork? The amount and specification of concrete needed? The post-pour floor flatness report? All in one view. How much time and effort would be saved? According to construction leaders surveyed by PlanGrid in 2018, you would be looking at saving 14 hours each work week and the industry would potentially save about $178bn in labour costs. 
Seamless workflows
Construction is a slow process. How many times have you passed a construction site on a normal basis to only feel like nothing has changed week to week? This is often due to waiting on the next link in the chain to be completed before work can progress. Over the past two decades, McKinsey Global Institute reports the industry has only seen a 1% increase in productivity. It needs solutions that move each step of the construction lifecycle along efficiently and quickly, all the way from design to facility operation and maintenance.  
Simple, user-specific solutions
There's a wide range of project and task management software available, but if it's harder to use than the benefit it brings, it defeats the purpose. Construction professionals have much to accomplish in a day's work, and the last thing to think about is inputting information into a complicated platform to suit someone's needs back in the office. We can draw a lesson from trends in consumer software on mobile devices, where most tasks are accomplished in simple, task-specific "apps" rather than all-encompassing software. Construction solutions must be easy to use, simple to readand targeted to the user's unique needs.