Dubai's Samana Developers plans US$680m in projects in 2023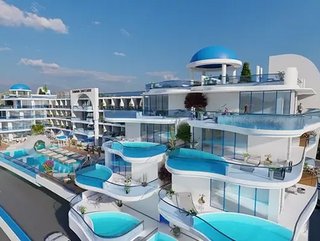 Six of a total of 12 projects are expected to be launched in the first half of 2023, CEO Imran Farooq says
Samana Developers, the Dubai-based real estate developer, has revealed that it plans to launch 12 new projects in 2023, worth a combined total of USD$680 million. These projects will include the developer's first foray in the hospitality market segment and will see 2,400 new residential units added to the market.
The announcement came during the release of the developer's 2022 performance review and unveiling of its 2023 blueprint. The developer said that it intends to target a quadrupling of its growth in the new year (400%), and that it intends to achieve this by picking up the most suitable locations, and the expansion of its real estate team over the course of the year.
Imran Farooq, CEO of Samana Developers, said that there are six projects with new concepts being lined up for launch in the first half of 2023.
"2022 remained bullish for Samana Developers as it set a new trend in the market. I believe innovation and out-of-box approach in real estate are key factors to success in modern Dubai's real estate market. For example, Samana Developers was the first developer in Dubai which created and set the trend of private swimming pools in residential projects – in non-hotel projects with title deeds. We are proud of it. Today, this trend has been replicated by at least two dozen developers. We will be coming up with new design ideas in our 12 new projects in 2023," Farooq said.
Despite the impact of COVID-19 pandemic-related construction challenges and site workforce restrictions imposed by authorities in early 2022, Farooq said that Samana was able to manage the construction flow and delivery of its US$29.9 million Samana Hills project.
Furthermore, the developer was able to launch projects such as Samana Waves, Samana Miami, and Samana Santorini, all of which have been 100% sold out, he added.
Increasing Returns for Investors
In November 2022, the developer also launched Samana Holidays, an innovative program which boosted the investment returns of Samana homeowners from 8% to 15%, Farooq claimed.
He explained that Samana initially targeted 500 units and converted them into holiday homes (serviced apartments) for short-term rentals for tourists, visitors, and holidaymakers to reside. The converted units are expected to generate over US$10.3 million in revenue in five months, he added.
Moreover, Samana Developers has fast-tracked the construction works of its US$35.3 million Samana Park Views, along with its Samana Waves and Samana Golf Avenue projects.
The Samana Park Views project was launched in September 2021 and as of today, four out of its eight slabs have been completed. The superstructure will be completed by end of February 2023 and the project will be delivered in Q2 2024.
"Dubai's US$8.7 trillion Economic Agenda, which was recently launched by UAE Vice President, Ruler of Dubai, Sheikh Mohammed bin Rashid Al Maktoum, is a new inspiration for us and for everyone. It will play a pivotal role for cross-sector growth, especially the real estate, over the planned next 10 years (to 2033). We are inspired by it," Farooq concluded.