SOM initiative to accelerate low-carbon building development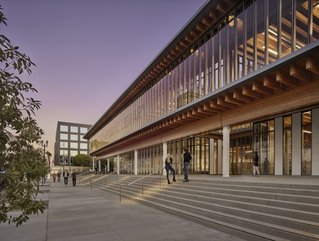 Billie Jean King Main Library, completed in California in 2019, Credit: Benny Chan
Skidmore, Owings & Merrill (SOM) launches the Whole Life Carbon Accounting service to help accelerate low-carbon building design & development
Skidmore, Owings & Merrill (SOM), a worldwide alliance of architects, designers, engineers and planners, has introduced a new service aimed at accelerating the implementation of low-carbon and net-zero buildings.
The initiative, named Whole Life Carbon Accounting, is a system used to assess and measure the operational and embodied carbon emissions of a building throughout its entire lifespan.
When the system is incorporated during the design phase, it offers a precise picture of the proposed building's carbon footprint, enabling investors, property owners and developers to make well-informed decisions. By evaluating a building's performance after completion, the service enables owners to monitor progress and achieve their long-term sustainability goals.
"The greatest opportunity to work towards a more sustainable future is to invest in new climate action measures," said Kent Jackson, SOM Design Partner. "We are proud to extend our long and proven history of working with public bodies, property owners and developers to help lead the way for a low-carbon built environment. We look forward to bringing our skills and expertise to bear on the critical issue of a reduced carbon future."
The shift towards whole-life carbon
Accounting for approximately 40% of carbon emissions worldwide, the built environment has long prioritised the reduction of operational energy and its carbon emissions. However, there has been a significant shift in focus towards whole-life carbon, changing the way buildings are designed, constructed and renovated.
Embodied carbon – the carbon impact associated with a building's initial construction – cannot be rectified later, whereas operational energy and associated carbon emissions can be improved to a certain extent once a building is in use.
"The built environment urgently needs new approaches to performing carbon assessments. Innovation is driven by a diversity of ideas and voices," says Mina Hasman, SOM Sustainability Director. "Evidence shows that as a project develops and design strategies evolve, the gaps between traditional assessments and a building's true performance can lead to a performance gap of up to five times more energy use and/or carbon emissions between predicted and actual values.
"Our service puts an end to this. As regulators and investors evaluate new and existing assets more closely, we provide clients with practical strategies to help inform their investment, development and management activities."
Applying SOM's interdisciplinary approach, the firm's sustainability team analyse and measure operational and embodied carbon emissions across every stage of a project. Clients can therefore gain an understanding of a building's true carbon impact and the ability to translate carbon targets into measurable performance outcomes.
Carbon assessments are typically performed at the end of design stages by different parties and to different standards. This can result in isolated calculations which are not comparable and cannot effectively illustrate a building's accurate performance.
The gaps between the projected performance of a design and actual building performance widen as projects develop and designs evolve. Consequently, calculations can constitute as little as 20% of actual carbon emissions. This can affect a building's value and viability in the long term.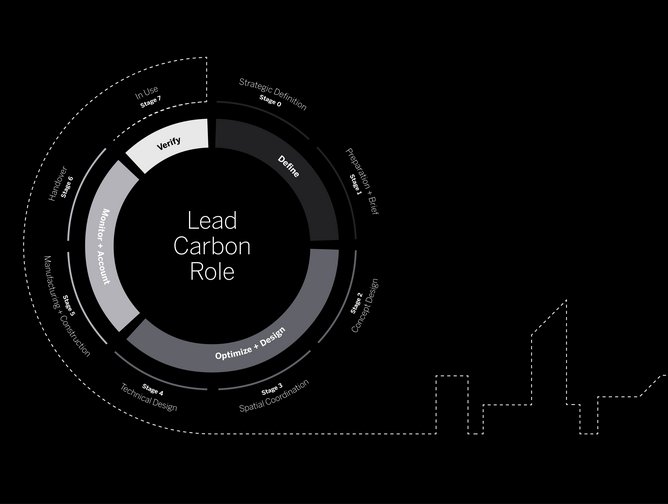 SOM Whole Life Carbon Accounting
The LEED Platinum Billie Jean King Main Library
The holistic approach has led to internationally-acclaimed projects, including the LEED Platinum Billie Jean King Main Library, completed in California in 2019.
The building is one of few in the region that features a lightweight timber structural system, to build the library atop an existing underground concrete parking garage. It was also named 2021 Project of the Year by the US Green Building Council and was the winner of the Metropolis Magazine Planet Positive award.
Additionally, SOM achieved a remarkable 61% reduction in embodied carbon compared to a typical concrete building, by preserving most of the original concrete structure.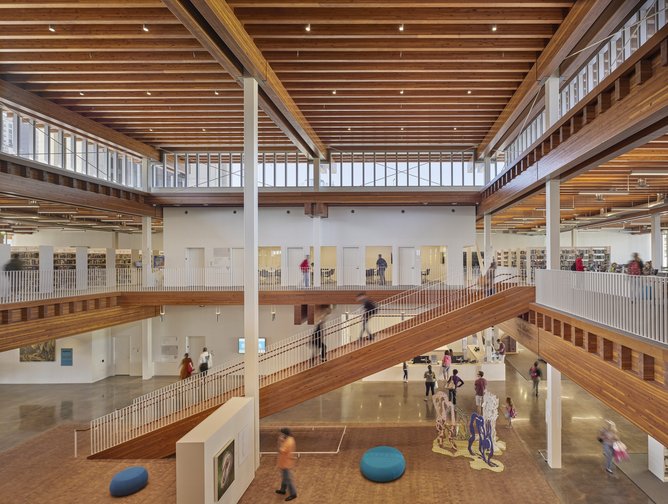 SOM's Whole Life Carbon Accounting has resulted in the internationally acclaimed Billie Jean King Main Library, Credit, Benny Chan
About SOM
Skidmore, Owings & Merrill (SOM) is a global practice of architects, designers, engineers, and planners, responsible for some of the world's most technically and environmentally advanced buildings and significant public spaces.
From a strategic regional plan to a single piece of furniture, SOM's designs anticipate change in how we live, work and communicate, and have brought lasting value to communities worldwide.
The firm's approach is highly collaborative, and its interdisciplinary team is engaged in a wide range of international projects, with creative studios based across the globe. SOM is a net zero emissions business.