Buyers swarm to L&T Realty's Navi Mumbai luxury project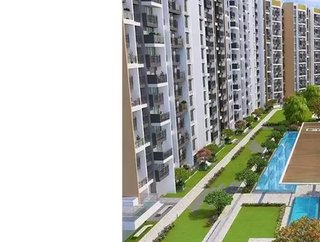 North Towers at Seawoods Residences luxury project launched by realty arm of Indian construction giant...
The real estate business of Larsen & Toubro, the Indian multinational engineering, procurement and construction company, has launched North Towers at its luxury residential project – Seawoods Residences in Navi Mumbai.
In a statement, the company says that the project has drawn strong interest from homebuyers, with more than 300 expressions of interest registered within the first two weeks. This follows on from a strong performance in 2019, when 500 apartments within the project were sold out in record time.
L&T Seawoods Residences is part of India's first Transit-Oriented Development (TOD) – Seawoods Grand Central. Conceptualised on the lines of the world's best TODs, Seawoods Grand Central is considered to be the new epicentre of Navi Mumbai as it features Mumbai's most popular shopping mall, as well as large office spaces on the campus, all of which have been instrumental in drawing customers to Seawoods Residences, L&T says.
The residential project, close to the Seawoods Grand Central Mall, is also near the railway station and upcoming Navi Mumbai International Airport. Covering 10 acres, the project is considered a premium development with prospective residents accessing a gated community with several facilities – including a 20,000sqft, bi-storey state-of-the-art clubhouse. 
The project also contains a 3.5 acre landscaped garden at the podium level, which features a jogging track and an open-air amphitheatre, a statement says.
"We are encouraged by the response to the launch of the North Towers at our L&T Seawoods Residences in Navi Mumbai. This reaffirms that there is always a demand for quality product and a brand like L&T that invokes trust," says Shrikant Joshi, CEO and managing director of L&T Realty.
"Dependability, committed delivery timelines, steady pace of construction together with a unique project concept are fuelling demand for North Towers," he adds.
Joshi explains that intensive market research to assess customer needs and aspirations in the micro-market has led to meticulous product planning and design for the North Towers at Seawoods Residences, with the towers consisting of a mix of two-bedroom and three-bedroom apartments, which are in demand by the market currently.
In addition, he points out that the apartments have been planned to ensure that ample sunlight and ventilation is available within, which is also a reflection of changing market dynamics, he says. The landscape design of Seawoods Residences also ensures the optimal utilisation of open spaces and greenery, he adds.
Global architectural and consulting firm Woods Bagot, Hong Kong, drew up the architectural concept of the project, while the landscape elements have been designed by WAHO, the international landscape architects.
The popularity of L&T Seawoods Residences proves that notwithstanding the tough business environment, brands that have the right product mix, are committed to delivery timelines, backed by a brand name that invokes customer goodwill, will also be market leaders, Joshi concludes.