China Belt and Road Initiative spending hit by pandemic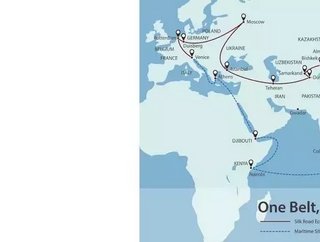 COVID-19 is causing slowdown in BRI investments, postponements in timelines and in some cases cancellations...
The Chinese economy may appear to be rebounding - reportedly growing 4.9 percent between July and September - but its Belt and Road Initiative (BRI) projects have been adversely affected by the worldwide disruption, according to a GlobalData report. 
The pandemic is causing a slowdown in BRI investments, postponements in project timelines, and in some cases, suspension or even cancellation of projects in Africa and Asia due to local government spending curbs. The Chinese government has also been curtailing investments in BRI projects owing to domestic financial constraints amidst growing debt problems.
"Despite much progress being made under the BRI investment since 2013, there has been criticism and push back against these projects in several countries following changes of governments or due to public outcry," Dhananjay Sharma, construction analyst at GlobalData, says. 
"This is partly due to lack of transparency surrounding these projects and the general terms favouring the use of Chinese contractors, materials and equipment, as well as labour. Consequently, there have been renegotiations on certain projects in terms of the overall cost or the cancellations of part or entire projects."
The BRI is now spread across 138 countries, with the Chinese government signing 200 cooperation agreements for joint construction with 138 countries and 30 international organisations.
Cancellations include £7.6 billion Bagamoyo port in Tanzania; £2.30 billion worth of pipeline projects in Malaysia; power plant on Lamu Island in Kenya; airport project in Sierra Leone and expansion of a Bangladesh highway, while Myanmar is scaling back a £5.61 billion port project to a new £999 million budget.
China could come under increasing pressure to allocate more resources domestically rather than increase its investment in foreign projects.
"Reflecting the global disruption in projects, there has been a fall in the business turnovers of Chinese contractors. According to China's Ministry of Commerce (MOFCOM), the foreign engineering businesses contracted to £61.1 billion by 12.6 percent year-on-year in the first eight months of 2020. 
"Of the total, 58 percent was accounted by projects in 61 countries 'along the belt and road'. The number of new contracts signed by Chinese contractors in January-August 2020 in those 61 'along the belt and road' countries had contracted by 24.4 percent on a year-on-year basis," the report concludes.