Phase one of London's £1bn Convoys Wharf project approved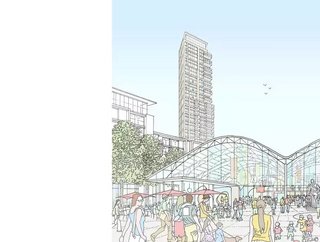 The first phase of the Farrells-designed Convoy Wharf regeneration scheme has been granted planning permission...
The first phase of the Farrells-designed Convoys Wharf regeneration scheme has been granted planning permission.
Led by Hutchison Property Group, the Convoys Wharf project is set to begin which will see 456 flats built around a small public park. Lewisham Borough Council recently gave the developer the green light for work to commence on the brownfield site.
Located on the Royal Docks in Deptford, it is the first of 22 plots which Hutchison Property Group is responsible for as part of a large-scale masterplan to develop the former site of Henry VIII's royal dockyard.
1,200 construction jobs are set to be sustained for the project which will include a 1.5 acre park on the River Thames, a number of cultural and commercial space in addition to 3,500 homes in the form of mid-high rise apartment buildings. The plans also include three 'landmark' towers which are set to tower 40-storeys into the London skyline.
Three-acres of open and public spaces are included in the plans. These include parks, a new school, a space dedicated to cultural usage in addition to a number of shops, restaurants, cafes and other outlets. The project also aims to enhance the existing High Street in Deptford and the historic town centre by linking the two areas.
Once all of these areas have been developed, the Convoys Wharf project is set to achieve its vision of having "a new vibrant waterfront, with cultural and commercial life alongside a high quality living environment."
The site is significant due to its important history and archaeology as a major Royal Dockyard of the sixteenth to the nineteenth centuries. A unique character is set to be created as part of the plans in order to preserve the history of the site. Moreover, listed buildings that currently remain on site will be restored including the Grade 2 listed Olympia Warehouse.
New infrastructure has also been proposed for the project which will enable the launch of a new bus route and bus stop, in addition to new pedestrian and cycle routes which will link Deptford to the River Thames.
Mike Stowell at Farrells said: "The regeneration of this former brownfield site creates a fantastic new opportunity for Deptford releasing to the local community new public realm, cultural, commercial and education opportunities and new greenspace.
"There is the additional important benefit of releasing 500m of the borough's riverfront to the public for the first time in 500 years. We are looking forward to developing the first phase of this long-awaited scheme and working with the local community on the next phases"