The pros and cons facing London's office sector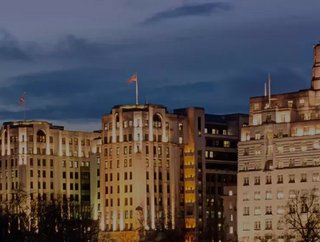 Deloitte's Summer 2021 London Office Crane survey paints a positive picture but concerns over leasing demand and prospect of 'stranded assets' remain
London is a complex city at the best of times and the Summer 2021 Deloitte London Office Crane survey adds another layer. You could scroll through and find plenty to encourage the construction sector - and no shortage of alarm bells too.
On the bright side, the number of new starts exceeded the long-term average for the third survey in a row, and there was a 20% increase in the volume of new construction starts (both new-build and refurbishments) to 3.1m sq ft across central London in the six months to March 2021. In all, 32 separate new schemes commenced during the survey period - a higher figure than the long-term average of 25.
More than half (56%) of new starts involved an extensive upgrade to existing office stock in as many as 21 separate schemes. By transforming outdated buildings into COVID-safe high-quality workspace with improved sustainability credentials, asset owners are no doubt looking to improve the resilience of their offices in a market where demand from occupiers is more selective. The 13.7m sq ft of office space under construction in central London, while 9% less than in its previous survey, remains above the long-term average. 
The biggest new start in six months to March 2021 was the refurbishment and extension of 80 Strand. In this Grade II listed building (pictured), built in the 1930s as Shell Mex House, four office floors will be renovated, with exposed structure and services, new rooftop terraces as well as new bicycle storage, showers and changing facilities in the basement. This scheme will complete at the end of summer, providing 384,000 sq ft of Grade A office accommodation. The 303,000 sq ft Christchurch Court is another large scheme undergoing comprehensive refurbishment. Work on this former Goldman Sachs office in St Paul's is expected to complete in April 2022.
"The shift towards refurbishments is gradually gaining momentum in the market, with several owners now opting to undergo retrofit and reuse of the existing space instead of demolition," the report notes. "BT's former HQ at 81 Newgate Street is one such example, where the structural frame will be reused. This should speed up the development programme while helping to make the building 'net zero carbon' through the use of photovoltaics and air source heat pumps. This 729,000 sq ft project is expected to start in 2022 and complete in 2024."
The owners of the 170,000 sq ft Gresham St Pauls, which completed in February, opted for refurbishment rather than demolition and re-construction, on the grounds of sustainability. The refurbished office space will reduce CO2 emissions by 6,660 tonnes over its lifetime, compared to a new building. It will also reduce the building's lifetime carbon emissions by 23% per person compared to keeping the existing building and saving 9% per person compared to building a brand-new office.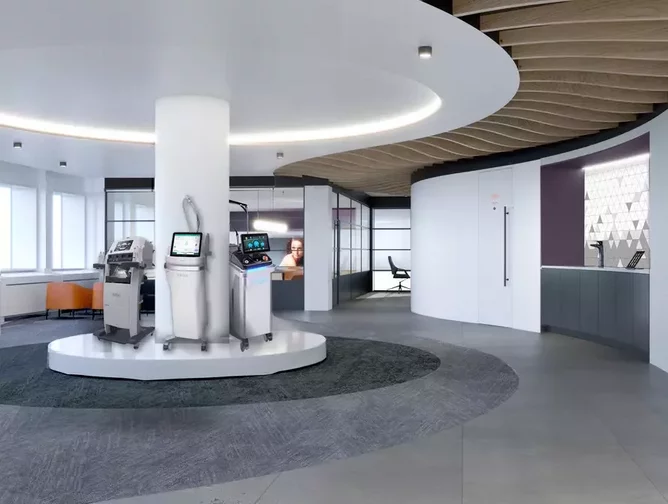 With lockdown measures easing today, optimism is returning across a number of sectors. Cynosure has opened its new Cynosure Experience Centre (above), complete with new research and training facilities, treatment demonstration rooms and operational commercial spaces, which will serve as a "collaborative workspace" for the company and its customers, partners and employees globally. Mondrian Shoreditch London will open its doors in July, with interior design studio Goddard Littlefair leading the design of its public spaces and food and beverage venues.
Second-hand supply and leasing demand concerns
On the downside, the availability of space in central London has increased considerably in the past 12 months, reaching its highest levels for more than a decade. The excess of second-hand supply is not expected to be absorbed even when the market recovers, as tenants look for accommodation that meets their more exacting standards post-pandemic, the report notes. "There are demonstrable trends among occupiers towards concern for ESG principles and staff wellbeing, leading to polarisation in the market. A new era of 'stranded assets' beckons."
The city and Canary Wharf are set to 'reinvent themselves'. The City of London Corporation is planning that a fifth of office tenants will be 'new' to the area by 2025 and is hoping to attract small businesses and sectors outside of its traditional financial services core.
The authority also wants half the journeys between railway stations and workplaces to be on foot or by cycle, with the development of pedestrian and cycle routes, and also a 50% increase in weekend and evening visitors. It is also planning to convert offices left vacant after the pandemic into hundreds of new homes. Canary Wharf Group is now considering scrapping its plans for 1m sq ft of office space and replacing it with a 60-storey apartment tower instead.
The appetite among flexible office providers for office space in London has inevitably diminished due to weaker tenant demand for short-term space as a result of the increase in homeworking.
Moreover, the level of confidence in demand for leasing continues to be "the biggest deterrent" to new office development. A large majority (85%) of developers pointed to the current weak demand from tenants for office space as a major concern in the London office market. Until there is more clarity about occupiers' office plans, many developers will hesitate to embark on new projects.