Your Retention Planning Checklist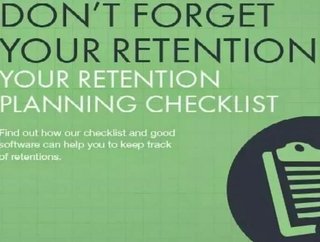 Retentions – theyve been called the bane of the construction industry, responsible at their worst for non-payments that have driven companies to c...
Retentions – they've been called the bane of the construction industry, responsible at their worst for non-payments that have driven companies to cash-flow crisis and even bankruptcy.
But properly managed retentions provide a guarantee that a contractor will finish a job well – and that sub-contractors will also do their bit.
So love them or hate them, they're with us – and this checklist will help you make sure you are managing retentions to the benefit of your company.
Fact: Retentions in construction are normally five to 10 percent of the value of a contract. You can find out more about the basics of retentions by reading this article.
Retentions can be costly for all concerned. When a large construction company went into receivership owing £23m, 3,000 sub-contractors lost £5m of retention money, which was claimed by the administrators as company assets.
Why is retention in construction so difficult to manage?
1. It can be complex and changeable:
Projects are complex and so are the retentions attached to them. New retentions may arise as a construction project progresses.
2. Small construction companies using standard accounts may have no way to record retentions:
You may need to put the retention down as a discount, or only put the net value on the invoice.
Read what HRMC says about retentions here.
3. They can drag on for years:
It has been known for contractors to make final checks on a building project, only for the job to be so old, the building had already been demolished…
It can all add up to an expensive problem – so read on for a useful checklist to help manage your retentions.
Your construction retentions checklist starts here!
1. What's going on with my retention?
You may have a number of retentions on the go at the same time. Do you know the status of each one – and when you can claim them or might have to pay them out?
2. How much do I owe in retentions – how much is owed to me?
The complexity of many projects mean retentions in construction will vary during the life of the project and beyond.
3. Have final checks/corrections been made?
If they have, when, and by whom? This is important evidence when disputing an unreturned retention.
4. Have you considered a retention bond?
A retention bond is a formal agreement between the contractor, sub-contractor and a third party surety. It can help to protect you against the problems that you could face with retentions.
5. Have I claimed that retention?
It might seem obvious, but many construction companies fail to record this.
6. Has it been paid?
Many companies lose track of what can add up to large sums of money.
7. What can I learn from this retention for the future?
Keeping good data can help you plan and save costs in the long-term – see this website for tips.
Fact: The National Specialist Contractors Council launched a 'No Retentions Policy' in Scotland in 2011.
What else can help?
Even with a checklist, keeping track of retention in construction can be a challenge.
A good software system can help by:
Accurately recording values, dates and conditions;
Recording anything that might affect the paying back of a retention;
Keeping track of all payments and transactions, giving visibility of retentions held and owed;
Enabling long-term planning to save costs.
Finally…
Make sure you have the right software to better manage your retentions in '5 Signs That Your Construction Accounting Software Doesn't Fit Your Company'!