Costain selects Eave as hearing protection partner in UK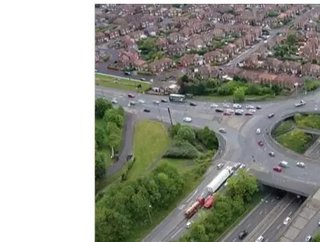 Costain partners with Eave to provide hearing protection to staff working on the enlargement of the A1 between Scotswood and North Brunton in UK...
Costain has partnered with Eave to provide next-generation hearing protection to staff working on the enlargement of the A1 between Scotswood and North Brunton. 
The project is part of a package of highways development schemes awarded to Costain by Highways England under its Regional Delivery Partnership (RDP) contract model and forms part of the 'RDP North' and also includes projects to develop the A1 between Birtley and Coalhouse and the A1 in Northumberland. 
Following a pilot at the Scotswood to North Brunton works, Costain plans to roll-out Eave's hearing protection system across its three RDP North sites. 
The A1 Scotswood to North Brunton scheme covers Junctions 74 to 79 of the A1 Newcastle Gateshead Western Bypass, an 8.5km stretch of road which currently operates as a dual two-lane carriageway with lane gain/drop sections. Costain has been tasked with constructing an extra running lane on each carriageway and removing the gain/drop transitions between junctions 74 and 77. 
The nature of the project means that work sites are linear; Costain operatives are currently working at night and progressing from north to south at a rapid pace, often completing 80-100m of central reservation upgrades and 800-900m of resurfacing per shift. 
Eave's hearing protection system protects operatives undertaking highways work, and suited to Costain's work on the A1, where ambient noise levels are high, worksites are constantly moving and potential hazards are shifting all the time. 
Eave's system consists of smart ear defenders, which continuously collect data on environmental noise and the wearer's exposure to noise, beacons which work with the ear defenders to map worksite noise, and an online platform for viewing the data and gathering insights. 
Costain will use these insights to protect and educate over-exposed workers, adjust working methods, and remove noise hazards at source. Eave's FocusLite ear defenders also promote situational awareness by allowing essential sounds to reach the wearer's ears, even as harmful noise is blocked; this capability is absolutely critical to the safety of highways workers, who face the ever-present risk of incursions from passing traffic. 
Costain's decision to use Eave hearing protection reflects its commitment to Highways England's 'raising the bar' health and safety initiative - and its corporate mission to "improve people's lives by deploying integrated smart solutions to meet urgent infrastructure needs". 
Mal Shiels, Framework SHE Manager at Costain, commented: "We will always do everything we can to maintain the health and safety of our most valuable asset - the people working on our sites. The data we get from Eave is invaluable, because it allows us to identify where and why operatives are being exposed to harmful noise, and design effective interventions to stop dangerous situations from recurring. The Eave system is going to transform hearing protection at Costain, but even if our partnership prevents just one person from having a deterioration in their hearing, it will have been a success."
Data shows that one in four noise-exposed construction workers has a material hearing impairment and one in three wear no hearing protection.
David Greenberg, CEO of Eave, said after decades of failure, it is clear that traditional hearing protection devices like ear plugs and passive ear defenders will never be an effective solution to the scourge of occupational deafness in the construction industry. 
"If contractors want to effectively protect their workers from noise-induced hearing loss they need a system that protects and monitors at the same time," he said.
"Eave's system offers best-in-class hearing protection while automatically and continuously gathering data on site noise, worker exposure and headset effectiveness - and delivering a host of other benefits like improved situational awareness into the bargain. 
"That's why we're seeing strong demand from contractors like Costain, who are genuinely committed to preserving the welfare of their workforce and want to stamp out occupational deafness in the construction sector for good."