Ghilotti Construction Does Social Media Right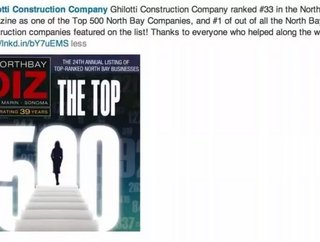 Its not a question of 'if or 'why a construction company should be putting effort into a social media marketing campaign. In todays social m...
It's not a question of 'if' or 'why' a construction company should be putting effort into a social media marketing campaign. In today's social media driven society, it's a question of how can we take advantage of our tools and resources to and create a strategy to build brand awareness and effectively reach an infinite audience over the web.
Construction is a fast paced, entertaining industry with big machines and loud booms that turn dirt roads into superhighways... The perfect recipe for engaging content. Social media is an ideal arena to showcase and create awareness about a construction company, and the work that unwinds in everyday jobs.
Ghilotti Construction Company is a general engineering contractor based out of Santa Rosa, California, that is celebrating 100 years of business and adapting to the technological advancements and the unquestionable need for a social media presence.
Its strategy for a successful marketing campaign is simple, yet highly effective: "Create awareness about our brand and our work using social media, by delivering engaging content to please an audience that thrives off of construction, heavy machinery, dirty jobs, engineering and advancements in infrastructure."
To implement its strategy, Ghilotti's marketing team works closely with HR, dispatch, estimators, project managers, and upper management to ensure that everything that goes on within the company is documented by a photographer and videographer, in order to build an archive of content that will eventually be shared across social media.
Filming jobs, taking pictures of machinery, and documenting  company events, will give an inside look at the companies culture, and create awareness about the type of work that Ghilotti does.
Everyone in the North Bay area of San Francisco knows that Ghilotti is a construction company, but not everyone knows exactly what type of construction they do. Social media is the perfect place to house a virtual showcase of the jobs the company completes, and answer the question "What kind of jobs do you do?"
The most important, and the most difficult part of the strategy, is to not only create engaging content, but to make sure to present it in a way that will keep the audience's attention. It is also very important to make sure that whatever is shared lives in the relevant location for its audience.
GCC uses Facebook, Instagram, Twitter, YouTube, and a blog on its domain:
Facebook: www.facebook.com/ghilotticonstruction
Blog: http://ghilotti.com/gcc-news/
LinkedIn: https://www.linkedin.com/company/ghilotti-construction-company
Instagram: GhilottiConstruction
Twitter: GhilottiCC
For each of these platforms, content must be finely tuned for the audience at hand. For example, Instagram users mostly use the app for pleasure, and want to see aesthetically pleasing pictures.
LinkedIn is a more professional environment, and a perfect place to share awards, contracted jobs, new hires, and project videos.
Across all of social media accounts, Ghilotti makes sure that the content that is posted is formatted specifically for each site, to maximise the effectiveness. Also, Ghilotti will target specific audiences that have interests in construction, and who are located in the San Francisco/North Bay area through Facebook paid ad promotions, to maximise the effectiveness and drive more engagement to their posts.
Here is Ghilotti's strategy summarised, but it's up to you to get the jobs, do the work right, document it, and present it in a creative and engaging way. Good luck!
1.       Collaborate with all divisions of business to gather content and to stay on top of everything that happens within the company;
2.       Create fun and engaging content;
3.       Tailor your posts to each social platform;
4.       Stay active on your accounts, and make sure to use paid promotions ever so often to get your posts out to a larger audience.
Many people question the effectiveness of marketing a construction company on social media. If your only concern is driving leads, maybe it isn't the right place for you.
Although, if you want to build brand awareness, inform your customers about your company, and have a loyal following, then you should reconsider. And hey, you never know who is looking at your profile. Who said social media can't land you a chunk of private construction work, or a $50 million commercial job?