Sobha Realty launches five interconnected towers development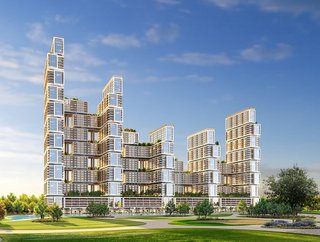 Sobha One Tower will offer waterfront views and several upscale amenities across its masterplan, developer says
Sobha Realty, the Dubai-based luxury real estate developer, has launched one of the biggest developments in the city, the Sobha One Tower, which will comprise of five interconnected towers containing one- to four-bedroom apartments and two- to four-bedroom duplexes.
In a statement, the developer said that the skyscraper will offer waterfront views and several upscale amenities in its masterplan. These include an 18-hole pitch and putt golf course with clubhouse facilities, a polyclinic, a mosque, a F&B esplanade near the water, and smaller scale BBQ, relaxation, and private part sky courts. There will also be a themed courtyard interconnected on the sixth-floor, multiple sky terraces, and other diverse amenities, it added.
PNC Menon, Founder and Chairman of Sobha Group, said: "At Sobha Realty, we believe in creating unique experiences and Sobha One embodies our values to offer the highest standards of living for all our customers.
"The project is being developed with keen eye for detail to meet the needs of all our residents, and we strive to imbibe the principles of finesse and form. Our goal is to raise the benchmark of the real estate industry and provide a living experience like none other."
"Dubai has been attracting a plethora of investors through its lucrative real estate offers and has positioned itself as one of the most modern and progressive markets for luxury properties. We have been making conscious efforts to contribute to the sector in Dubai, along with meeting the increasing needs of customers," he added.
A strategic location
The new development is strategically located in proximity to major attractions and destinations in Dubai. It also faces Ras Al Khor sanctuary and offers exceptional vistas of the Creek, the Burj Khalifa and Downtown Dubai, the developer added.
Francis Alfred, Managing Director of Sobha Realty, said: "The Sobha One project reflects our dedication to adhere to the highest quality standards, and we strive to provide our customers with excellence. With an innovative and modern approach, our new project offers a reimagined lifestyle, and is a perfect example of our efforts to meet the increasing needs of the real estate market.
"We expect that Sobha One will be one of the most-preferred residence options to local, as well as global investors, and we commit to continue developing even more high-quality residences for our customers," he concluded.