WASP and Mario Cucinella Architects constructing 3D printed habitat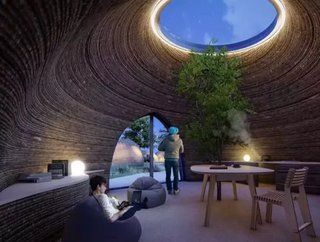 TECLA, a joint venture between Italian 3D printing company WASP and Mario Cucinella Architects, has begun work on a prototype 3D printed home. The Bolg...
TECLA, a joint venture between Italian 3D printing company WASP and Mario Cucinella Architects, has begun work on a prototype 3D printed home.
The Bolgna-based project was born from a vision to provide a home for everyone at a time of exponential population increase and an associated lack of affordable housing. TECLA is a new circular housing model, created using entirely reusable, recyclable materials taken from the local terrain. Built using Crane WASP, the latest innovation in on-site 3D construction, the team behind TECLA are keen to support the move towards eco-housing.
Taking inspiration from potter wasps, since 2012, WASP (World's Advanced Saving Project) have been developing viable construction processes based on the principles of circular economy, that will create 3D printed houses in the shortest period of time, and in the most sustainable way possible.TECLA will be the first habitat to be built using multiple collaborative 3D printers, offering a greater scope of scale than ever before.
TECLA can be entirely 3D printed from locally sourced clay; the biodegradable and recyclable 'km 0 natural' material will effectively make the building zero-waste, adaptable to multiple environments, and suitable for self-production through the use of WASP's innovative Maker Economy Starter Kit.This approach will limit industrial waste and offer a unique sustainable model that will boost the national and local economy, improving the wellbeing of communities.
SEE ALSO:
Vinci subsidiary Freyssinet launches 3D Printing company Concreative
Newtecnic and the rise of 3D printing
Read the latest issue of Construction Global here
"Together with WASP we aim at developing an innovative 3D-printed prototype for a habitat that responds to the increasingly urgent climate revolution and the needs of changes dictated by community needs," commented Mario Cucinella.
"We need a paradigm shift in the field of architecture that gets closer to the needs of people, thus finding an answer for the 'Earth'within the 'earth'. A collaboration that becomes the union between empathic architecture and the application of new technologies."
TECLA was developed using in-depth research undertaken by the SOS - School of Sustainability. A professional school founded by Mario Cucinella that combines education, research and practice.
The research, conducted with the support of MA students from the Sustainable Environmental Design programme at the Architectural Association School of Architecture in London, explored the cause and effects of homelessness.
It interrogated the use of technological advances to enable a solution, based on case studies in locations with different climates. The result is a highly flexible envelope, designed to be resilient to any climate and energy-efficient in a way that traditional housing models are not.